PLM Software can be pricey; however, successfully using a PLM system saves companies money in long run by increasing efficiency and time to market turnaround. But just how much does it cost, and how can you know whether you're getting a fair deal? Understanding the components of how PLM system cost is made up can help you decide what you're willing to pay for PLM.
What is the General Price Range for PLM Solutions?
In general, the cost for a PLM system varies based on factors such as your PLM system provider, number of users in the company, and what you hope to accomplish through your PLM system. That being said, the average cost for a PLM system is between $80 to $150 per user per month, according to engineering and manufacturing software expert Oleg Schilovitsky. Much of the pricing difference is in connection to the range of use available through different software systems.
Why Does PLM Have to Be So Expensive?
Despite what's sometimes expected, getting PLM software entails more than a quick purchase and installation. There are several factors to adopting a PLM system and understanding this process is important to understanding its associated costs.
PLM software cost is broken into 3 main categories:
One time capital investment:

This includes actually getting the software and makes up roughly 30-40% of total costs. This particular area of cost is subject to change based on factors such as number and types of users.

One-time general expenses:

These expenses are for factors that help your company get the most out of its PLM system after purchase and include software training, data migration, implementation services, and much more. They make up just over 50% of total costs and cost is dependent on company needs.

Annual recurring expenses:

These expenses are for factors that ensure your PLM software is running smoothly as long as possible. This includes things like ongoing maintenance and live support and makes up roughly 10% of total costs. Pricing here depends on factors like number of users and company needs.
Why We Believe PLM Should Cost Less, So Our PLM is More Affordable
SolidPartners makes PLM more affordable than ever. No longer are small to medium sized companies limited to choosing between having expensive PLM software or no PLM system at all. By rethinking PLM pricing, we are able to offer a powerful PLM system that's affordable to small and medium-sized companies.
Our 4G:PLM system can help give you:
Higher efficiency

Less time tracking manual entry errors

Greater collaboration between the design and manufacturing stages

Higher profits
Our Product Lifecycle and Master Data Management System 4G:PLM is available for just $50/month per user – far less than the average cost of PLM solutions. There's nothing standing in the way of having excellent PLM anymore.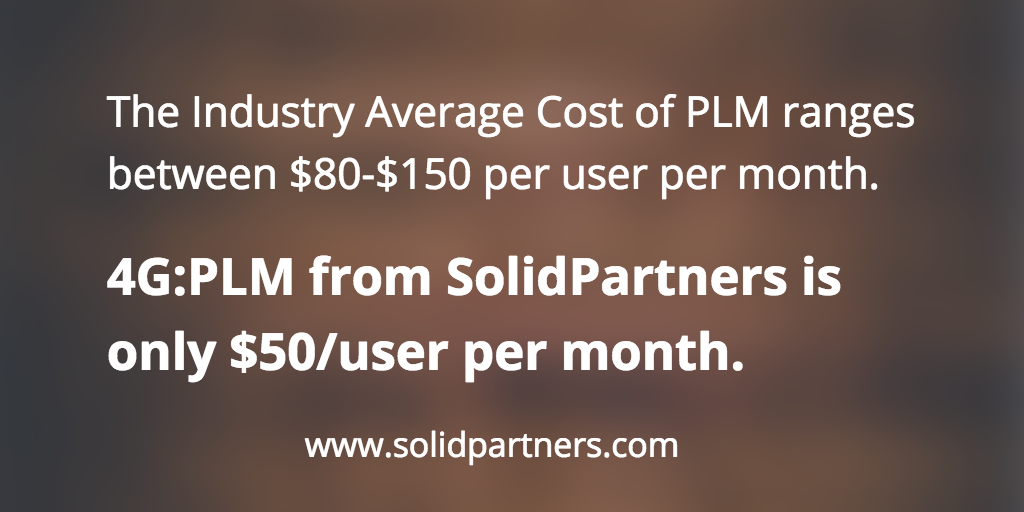 Request a free trial of 4G:PLM today so you can see for yourself how PLM can be powerful AND affordable.